Union Ain't Wanted
Employees of auto industry suppliers are under the gun as a result of the so-called "neutrality" agreements between the companies and the United Auto Workers (UAW).
Union Free America has received requests for help from employees of auto industry suppliers from all across the country who are fighting to stay union free.
One of the most popular items in these campaigns has been a colorful, 1 1/2 inch, "Union Ain't Wanted" button.
The U, A and W on these buttons are large, bright red letters and are stacked vertically to spell out UAW. The other letters are smaller and are black.
We now also have available embroidered "Union Ain't Wanted" patches and stickers and magnets.
The patches are 1 1/2" x 3" or 2" x 3".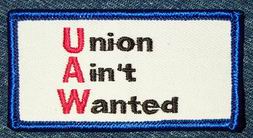 The stickers and magnets are 2 1/4" square.
If you work for an auto industry supplier, or for that matter if there is a UAW organizing campaign where you work no matter what the company does, and would like a "Union Ain't Wanted" button, sticker or magnet, just send us an e-mail with your name and mailing address.
You can get an embroidered patch for $1 plus postage. Just send us $1 along with a self addressed stamped envelope and a note asking for a "Union Ain't Wanted" patch. On requests for 3 or more patches we will pay the postage.
If you can get a Union Free committee started where you work, we can even get you some buttons personalized for the committee, as we have already done in several places. We'll work with you on setting up a committee.
A good example of what can be done by an employees' Union Free committee can be seen at www.nouaw.com. This site belongs to the employees at the Toyota plant in Georgetown, Kentucky who are waging a successful battle to keep the UAW out of their facility.
Another site, gastoniaunioninfo.com, belongs to the employees at the Freightliner plant in Gastonia, North Carolina. On this site they have posted some of the union agreements, including a part of the neutrality agreement. These agreements are hard to come by. Congratulations to the guys at Freightliner for the NLRB complaint that broke this one loose.
It is just a matter of time before auto workers wake up to the fact that the UAW is doing them more harm than good and begin decertification campaigns.
Please send us information about other web sites we should consider adding to this page.